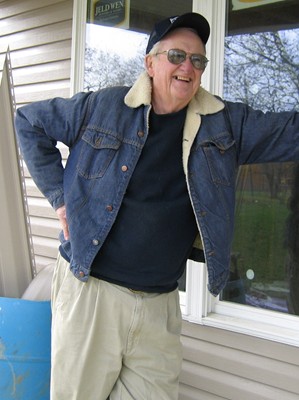 Harold began volunteering with Hilliard Adopt-A-House when the partnership was formed in 1996. He was the St. James Lutheran Church Volunteer Coordinator as well as the House Lead for construction from the onset. He faithfully served for over fifteen years until his health no longer allowed him to do so in 2012. During that time period Harold was the House Lead for ten new homes and four rehabilitated homes for Habitat for Humanity recipient families.

This is a portion of his obituary as it appeared in the Columbus Dispatch:

Harold C. Rausch, age 90, of Columbus, died Monday, April 27, 2015 at Kobacker House. He was born December 15, 1924 in Columbus, son of the late Julius and Elizabeth (Troesch) Rausch.

Harold retired as project manager with A.E. Knowlton following over 45 years of service.

He is survived by his sons and daughter-in-law, Mark S. and Pam Rausch, Minneapolis, MN and Gary A. Rausch, Columbus; grand-daughters, Leslie E. and Lauren E. Rausch; brother and sister-in-law, Victor J. and Sandi Rausch, Columbus; several nieces and nephews, cousins and other relatives; caregiver, Agnes Gyekye; and many friends. Veteran WW II US Army. Besides his parents, Harold was preceded in death by his wife of 65 years, Lois A. Rausch, in 2012 and his brother and sister-in-law Lester J. and Maxine Rausch.

He was a lifetime member of St. James Lutheran Church, where he was a past member of the Board and Building committee. He volunteered for many years with Habitat For Humanity.